Jacksonville FL Concrete Blasting
Why use Sandblasting with Concrete?
Are you one of the people in Jax FL that asks, "How to remove paint off concrete, driveways or sidewalks?" To begin, sandblasting is the process of shaping, cleaning and smoothing surface, especially the most difficult ones, by blasting solid particles across the surface at high speeds.
Concrete, cement, bricks, blocks and stone are a porous substance. When they are painted, some of the paint actually soaks into the surface and below the surface. So if you scrape or sand the surface, you're not able to remove the paint that is in the pores below the surface. So some of the paint always shows through. Therefore those techniques are not effective at removing paint or stain from concrete, cement, bricks, blocks and stone.
However Sandblasting can actually reach into those pores and clean them out. This technique is 98% effective (and the most bang for the buck) and does not change the natural look of the substrate.
For 100% effectiveness, in a worst case scenario, sandblasting will effectively remove the paint completely as it is capable of removing the porous layer along with the paint so there is zero paint showing when it's complete. This will remove a very small layer of concrete, cement, block or stone. Its fine for those and their natural appearance does not change. But that last 2% improvement is certainly in the category of diminishing returns. That last 2% improvement raises the costs 25%. OUCH. Now we're are not just removing the paint, now we are removing stone with it.
Sidewalks and Driveways.
Surfaces you walk on. As many homeowners have discovered to their dismay, painted walkways and drives become very slippery when they are painted and rained on. When it's wet, it's like walking on ice. This becomes highly dangerous for some people.
The Enclave hotel and suites in Orlando Florida had this problem.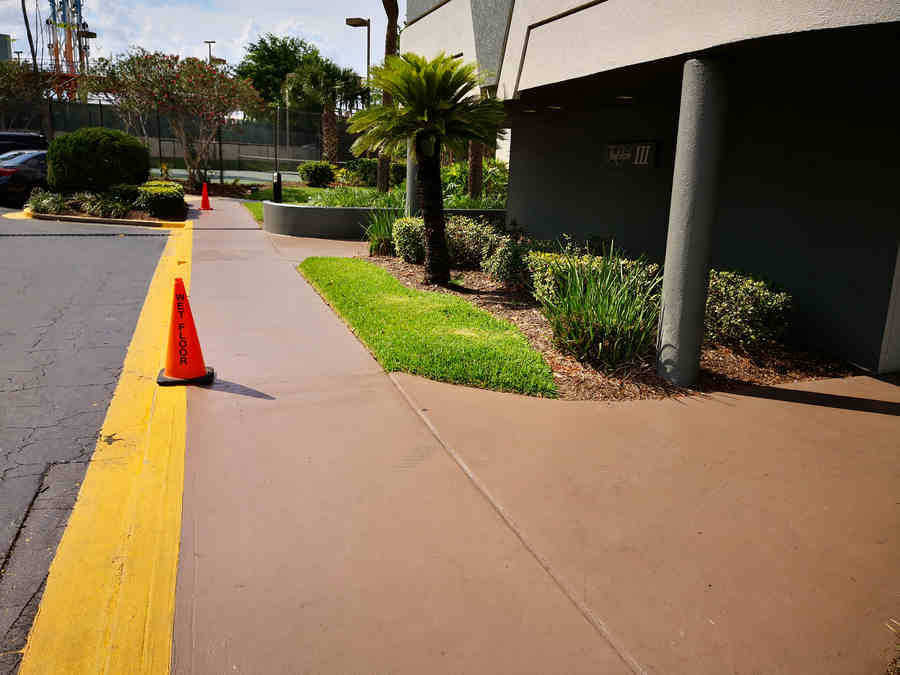 In hopes to improve the appearance of the property, they painted a half mile of sidewalk. It looked beautiful color coordinated and all. The next time it rained on the newly painted sidewalk, 5 of their guests slipped and fell. They realized this had to be repaired right away. ½ mile is a lot of sidewalk.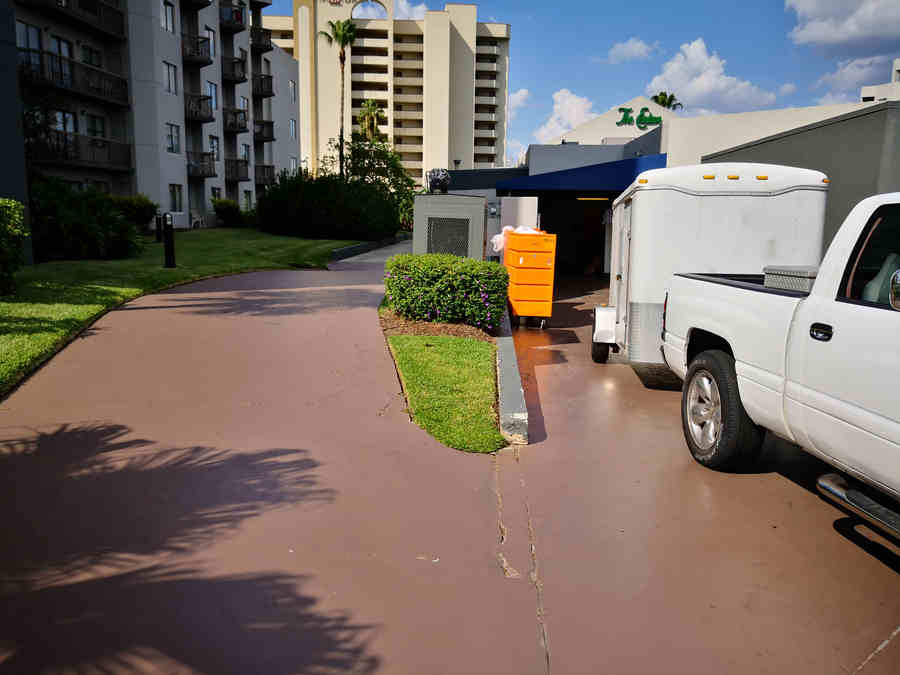 They got estimates for sandblasting and removing the paint. I came in and gave them a free test blast so they could see what to expect. They loved the result but thought basting sidewalks was too expensive as it didn't cost nearly that much to paint it.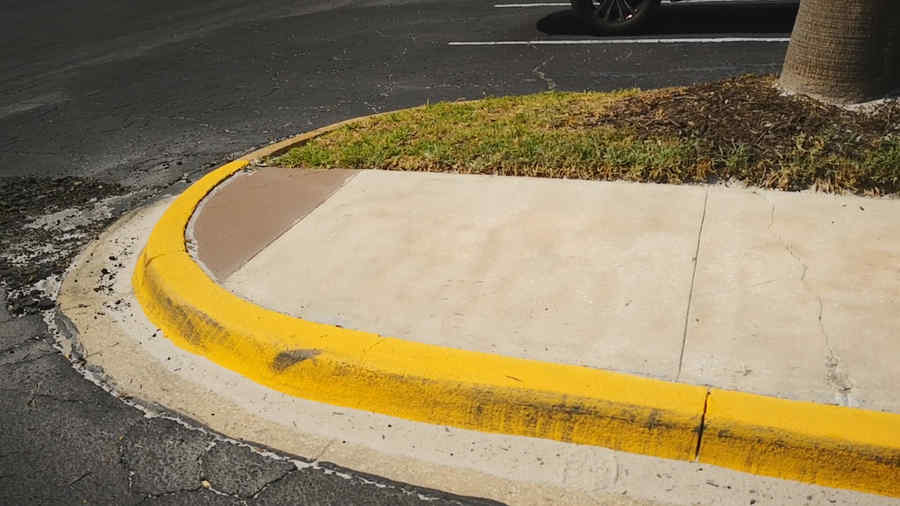 They contacted their paint distributor, who by the ways wants to sell lots of paint, and he recommended they repaint it with a special no slip paint and told them it would solve their problem.
It was a lot less expensive than blasting so Enclave went that route and painted ½ mile of sidewalk a 2nd time. Next time it rained, more guests slipped and fell. Ut oh! They called me up and gave me approval for blasting the sidewalk. But now it had 2 coats of paint on it and not 1. Not knowing what that 2nd coat was like, I went back and did another test blast.
Ut oh! While this 2nd coat of non-slip paint did not remove the slipperiness when wet problem, it turned out to be amazingly durable and stubbornly slow to remove. I refused to honor my 1st quote for removing 1 coat of paint now that it had 2 coats and the new coat was super stubborn. I was forced to double my 1st price quoted.
Well I'm sure you can imagine their reaction, but since I was the lowest bidder, they did hire me although they never were friendly to me. I believe I got blamed for their stupidity. Hhhmmm is all I can say. (Actually that is my really polite opinion)
Another reason to sandblast painted concrete?
If it's a wall and it's been painted before, but it's now aging and peeling, adding another layer of paint atop of a peeling layer is a sure way to throw your money away as the peeling layer will continue to lift up and remove your new layer. So if it is peeling you must fully remove that old layer so the new paint can completely bond with the substrate. Then the new paint can last for another 15 years.
There you have it. The most common, but not complete list, of reasons for sandblasting concrete, stone, block & brick.
The pictures below taken in Jacksonville Florida, can be enlarged by clicking on them, and then choosing the magnifying glass.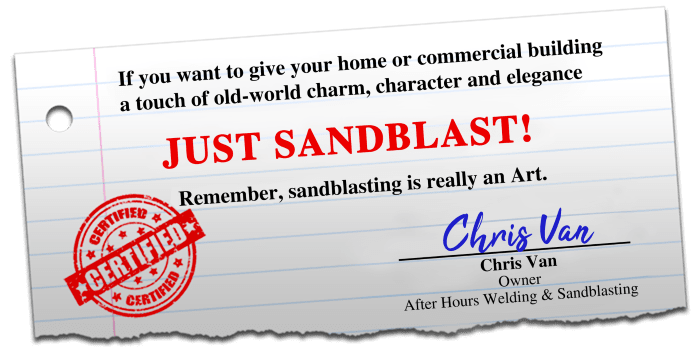 FAQ's
Frequently Asked Questions
What is sandblasting?
Sandblasting is a general term to describe the act of removing fine bits of material at high-velocity to clean a surface. Silica sand is the most commonly used material, but any small, relatively uniform particles will work.

Sandblasting has been used for many years as a method of preparing a surface for the application of paint or a sealant. When painting, one does not want to trap dust, dirt, or bubbles in a previous layer of paint, or other imperfections under the new layer. By sandblasting, which is a technique of launching small bits of abrasive at the surface at a high speed, all imperfections are loosened and can then be easily washed off. This creates a smooth surface that is ready for a redesign with new stucco, paint or other forms.
What is sandblasting used for?
Sandblasting is used to remove paint from stucco and other textured structures. It is also used to rejuvenate concrete, bring back the original look of brick, or stone. Sandblasting is also used for metal and wood projects. Not only can it remove rust and paint, sandblasting can give wood its rustic or natural look and texture again. Sandblasting is also used for profiling metal. New metal has a very smooth surface which can hold onto paint for 5-10 years before the paint begins to let go of the metal and peel/flake up. If the metal has been blasted/profiled, it roughens up the surface by creating indentations, valleys and peaks on the metal. Now when profiled metal is painted, the paint will grip the metal for 15-30 years . Profiled metal creates 5-10 times more surface area for the paint to adhere to. All new bridges and water towers are sandblasted/profiled before the final paint coating is applied, so when it's applied it will have a 30 plus year lifespan.

Sandblasting is used for fire damage remediation on wood as it can fully remove the char burn from the wood making it look clean and new as it totally & permanently removes the burnt wood smell also.
Does sandblasting affect the wood trim on the exterior of concrete or stucco buildings or homes?
When we are sandblasting a hard surface such as the non-wood exterior of a home, wood trim could be damaged. So our team covers all parts of a structure that may be negatively affected by sandblasting. In other words, when we are working on, for example, removing stucco, we protect the wood trim from being damaged if requested.
Does sandblasting damage electrical wires, fixtures, telephone wires, etc?
All possible precautions are taken into consideration during a sandblasting job, damages may still occur due to unforseen complications because of type/density of texture on your property's surface. Jacksonville Florida Mobile Sandblasting takes no responsibility for unforseen damages.
Does sandblasting damage windows or roofs?
It is a rare occurrence for windows or roofs to be damaged during sandblasting. To remove the paint off the wood trim at the edge of the glass, the window will need to be protected which we can easily accomplish if you request it.
What is the difference between wet sandblasting and dry sandblasting?
Wet sandblasting means water is used in the technique to remove paint, tex-cote or old stucco, from a structure. This is a common sandblasting technique for non-steel items.

Dry sandblasting does not utilize water.
What is the difference between dustless blasting and traditional sandblasting?
Dustless blasting is just another nickname used when adding water to the sandblasting process. Dustless blasting is wet blasting.

Dry sandblasting is also called traditional sandblasting.
When would each technique be used?
Wet sandblasting/dustless blasting is typically used for exterior jobs as when we are blasting brick or concrete.

Dry sandblasting/traditional sandblasting is used for metal projects. Typically dry sandblasting is the preferred technique for removing paint off of steel or disassembled vehicles
Will my neighbors' property be affected by the sandblast project?
90% of the neighbors we have encountered do not have issues with the short term, temporary, small dust generation. But in a few circumstances we will hang thick plastic sheets around the project to contain 99% of the mess. We have discovered 99% of the neighbors are actually happy for their neighbors when they have an opportunity to upgrade their property. Would you dislike your neighbor because, or be happy for them when they can implement some construction upgrades? Most people are actually nicer than you'd expect.

Your neighbors should be advised to move their vehicles from their property to prevent dust and/or particles from dirtying the vehicle if they are very close and your project is very large and ongoing. It's just common courtesy. It takes less time to move a vehicle farther away than it does to rinse it with a garden hose for 8 minutes. But if you can't get ahold of your neighbor, it's not the end of the world. When was the last time you cried because you're automobile got dirty?
Is a city permit required for sandblasting projects?
I have only ever heard of a permit being required, in the state of California. I travel all over the east coast and have never seen or heard of it being required before.
How long will the sandblasting take?
Sandblasting time depends on a variety of factors, but for example, a typical 1200 square foot home takes up to 8-10 hours for completion. A vehicle may take 4-6 hours.
Is sandblasting used for the interior projects?
Sandblasting is used for interior projects such as ceiling wood beams, tongue & groove wood ceilings and brick/stone fireplaces and removing paint off of brick or concrete.
Can metal objects be sandblasted?
Yes, metal objects can be sandblasted.
What is Architectural Sandblasting?
Architectural sandblasting is a process that is required when the appearance of a finished surface needs a new look, or when the original look is desired. This form of sandblasting can be used to expose the aggregate in brick or concrete projects. It can also be used in wood projects when fire or smoke damage has stained the wood and you want it to look new again while removing the smoke odors. Ceiling wood beams may also need sandblasting to restore the original color.
Does After Hours Welding & Sandblasting work on structures that have lead or asbestos?
No. Sandblasting contractors are governed by too much red tape when asbestos or lead is involved.

The government required paperwork is more nightmare than I'm willing to deal with.

HOWEVER: There are no laws or red tape governing a structure owner from removing asbestos or lead paint from their own property. In these cases I will rent my sandblaster out to a homeowner, and I will train them on how to use it. I can even direct a homeowner to where to hire a skilled blaster laborer to work for the homeowner with the rig the homeowner has rented. This will frequently save the homeowner $20,000 as compared to hiring a firm that's certified and approved to work on asbestos or lead paint containing projects. We have certified safe breathing respirators systems and vacuum clean up systems. We can teach you what is safe and what is not. But we will not perform that work ourselves.
What is the finish on sandblasted wood?
Blasting wood raises the grain. Depending on what kind of wood and how tough the coating is determines how much the grain is raised after blasting. A softer wood like pine or poplar will blast rougher but sand easier. A hard wood like oak or maple will blast with a smoother finish but sand harder. A painted wood will blast rougher than a stained or varnished piece. Raising the grain gives the wood a genuine natural look which many people love. A perfectly smooth finish is artificial but sometimes preferred. After sandblasting if you want a perfectly smooth finish, you may have to do some sanding.
What is the difference between media blasting and sandblasting?
Almost no difference. In 1870 when abrasive blasting was invented, the only known low cost plentiful abrasive was sand. So it was not called abrasive blasting, but became known as sandblasting. As time went on people experimented with other forms of abrasives and finally found other abrasives that had some beneficial qualities sand did not.

The other forms of abrasive, one being coal slag, became known as media. Abrasive is the function, media is the medium that delivers an abrasive action. So today anytime sand is not the medium delivering the abrasive action, it's called media blasting.

The following is a short incomplete list of abrasive media. Garnet, Aluminum Oxide, Sand, Recycled glass, coal slag...etc. So media blasting delivers different forms of abrasive action delivered by high velocity air. The professionals know and understand the difference, but the general public calls all media blasting sandblasting because they all deliver a form of abrasive action same as sandblasting. Even I call it all sandblasting.
What is bead blasting?
Most abrasive media has sharp angled edges to help deliver the abrasive cutting action. This profiles the object being blasted leaving it with mini rough edges with is fantastic for making paint stick to the object being blasted. But this roughened surface it creates removes any gloss shine from metal. If you're going to paint it, so what?

But many aluminum engine parts do not get painted. They may need blasting to remove tarnish and corrosion, but they want to keep as much of the metal shine as possible. To achieve this, abrasive media with sharp edges is not used. Glass (beads) can be manufactured in mini round balls with no sharp edge (super tiny marble). It's hard enough it delivers corrosion removal action, but being a round bead it leaves a mostly flattened surface (slightly dimpled) like a golf ball is mostly smooth. This is tremendous for retaining much of the metal shine after blasting is done. So it's called bead blasting. It's predominantly only done in blasting cabinets and virtually never done in mobile sandblasting.
What is vapor blasting?
Vapor blasting is merely wet blasting. Vapor blasting is abrasive blasting done in a blast cabinet and water and/or detergent is added to the blast mixture coming out of the hose. The first cabinet manufacture to add a wet blast process to their cabinet, called it vapor blasting instead of wet blasting because they wanted to sound more sophisticated. Personally I think they are just idiots for further confusing the public.
What is soda blasting?
Soda blasting uses sodium bicarbonate (baking soda) as the blast media. It barely has any abrasive action at all but it will remove paint without damaging chrome, glass or gel coat on fiberglass boats. As abrasive media's go, it is the most expensive at about ten times higher the purchase price for the media. Also its abrasive action is about 3 times slower than sand. It is not economical for most blast jobs when compared to sand. But when sand is too abrasive, frequently baking soda is effective while being gentle.

Sodium Bicarbonate in large quantities can shock or kill grass and plants. Baking soda does have a high Ph and can retard grass or kill flowers. Some concerns, however, were raised over sodium bicarbonate in gardens because of the first part of the compound. Sodium can burn leaves, roots and other plant parts. It can also stay in soil and affect later plants.

Soda blasting is not new...it is something that the government discovered while restoring the statue of liberty during the early eighties. Like everything the government does, cost is not an issue so this was an acceptable media to use while media blasting the monument. It does work, and is extremely delicate but it has its place and its place is somewhat limited in my opinion.
What is dry ice blasting?
Dry ice blasting uses dry ice as the blasting media. Its abrasive action is very mild thus leaving it most suitable for cleaning of surfaces where spent media being blown around is not acceptable such as blast cleaning in kitchens. The dry ice shatters upon impact and instantly vaporizes into the air so there is no media mess to clean up later. Its expensive, it's slow, it's only suitable in situations where media mess is not permitted.
Can I bring items to your place for blasting instead of you coming to my place?
No. We are a mobile blasting service that operates out of Jacksonville Fl and we only come to you.